The third largest producer of CO2 emissions in the world, after China and the USA, is food waste:This is the beginning of the video introducing Massimo Marino's speech at the round table entitled "Recycling of Plastic Trays, an Opportunity to Fight Waste and Feed Sustainability", put on by Corepla at Ecomondo in Rimini on Wednesday 9 November at 3 p.m.
There is debate on food waste and the possible solutions to it, but not enough: the extent of the damage this waste causes to the environment is clearly expressed in the title of this news item: according to an FAO study, food waste around the world generates an enormous quantity of greenhouse emissions, equivalent to 3.3 gigatonnes of CO2.. If it were a country, food waste would be the third biggest emitter in the world, behind only China and the United States. We also need to emphasise the large quantities of water and fertiliser used in producing this food, which tragically never reaches human mouths.
In 2020, global atmospheric CO2 emissions reached 32 gigatonnes (billion tonnes), from: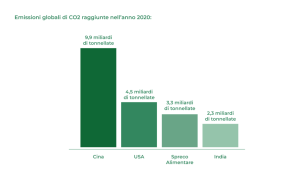 On an economic level, the damage is equally serious. On the basis of data from Sprecozero and Waste Watcher, it is estimated that in Italy, the waste of the entire agri-food chain exceeds five million tonnes per year, equivalent to a value of over ten billion Euros, largely due to food waste in the home, although a not insignificant portion is also down to waste during the production, distribution, wholesale and food service phases.
To combat this problem, tips are published aimed at families like how the problem is debated between experts, as in the case of the round table to be held at Ecomondo. Undoubtedly interesting is the study on the function of plastic packaging for reducing food waste, to be presented by Massimo Marino (a university lecturer who is the author of Life Cycle Engineering texts).
The fact that plastic packaging extends the life of foodstuffs is a reality we can all experience and test out in our own refrigerators, but it will be interesting to understand more about it through comparison with other solutions.
Until now, we have talked about food waste in general, but there are some categories which are particularly problematic. The survey conducted by Waste Watcher showed that there are some foodstuffs which are more frequently wasted in Italian families: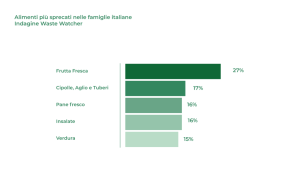 It is therefore precisely these products that we should focus on in order to reduce waste.
The Round Table can be attended in person, or streamed via Teleambiente.
https://profooditalia.it/2022/11/02/il-terzo-produttore-di-co2-nel-mondo-dopo-cina-e-usa-e-lo-spreco-di-cibo/